Apprenticeship: Building Your Career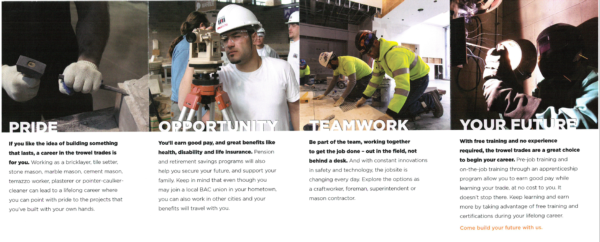 If you like the idea of building something that lasts, a career in the trowel trades is for you. Working as a bricklayer, tile setter, stone mason, marble mason, cement mason, terrazzo worker, plasterer or pointer-caulker-cleaner can lead to a lifelong career where you can point with pride to the projects that you've built with your own hands.
You'll earn good pay, and great benefits like health, disability and life insurance. Pension and retirement savings programs will also help you secure your future, and support your family. Keep in mind that even though you may join a local BAC union in your hometown, you can also work in other cities and your benefits will travel with your.
Be part of the team, working together to get the job done - out in the field, not behind a desk. And with constant innovations in safety and technology, the jobsite is changing every day. Explore the options as a craftworker, foreman, superintendent or mason contractor.
With free training and no experience required, the trowel trades are a great choice to begin your career. Pre-job training and on-the-job training through an apprenticeship program allow you to earn good pay while learning your trade, at no cost to you. It doesn't stop there. Keep learning and earn more by taking advantage of free training and certifications during your lifelong career.